A US missile strike Sunday killed six militants in Pakistan's northwestern tribal belt near the Afghan border, as a suicide bomber died in a failed attack in Pakistan's Kashmir, officials said.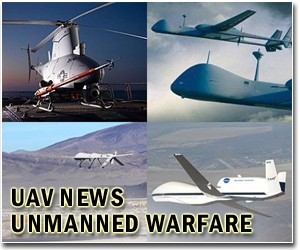 NATO chief says forces to stay in Afghanistan to finish job
Madrid (AFP) Sept 12, 2010 - NATO chief Anders Fogh Rasmussen vowed to keep the alliance's troops in Afghanistan for the time needed to finish its mission, in an interview with a Spanish newspaper published Sunday. "Defeat is not an option, we will win. The Taliban will never win, nor will they return to power. Never will we allow Al-Qaeda to have refuge Afghanistan," the newspaper ABC quoted Rasmussen as saying in its Spanish translation. He said NATO's International Security and Assistance Forces (ISAF) were making progress and that Al-Qaeda no longer has a sure refuge in Afghanistan, the newspaper said. He noted that Al-Qaeda and its ally the Taliban were under pressure especially in their strongholds of Helmund province and Kandahar.

Rasmussen also stressed that Western forces would not withdraw from Afghanistan in 2011, but undertake a gradual process of transferring responsibility for maintaining security to the Afghans as conditions allow. On his first official visit to Spain since taking over as head of NATO, he was to use the occasion to ask coalition members, especially Spain which has committed around 1,500 troops, to send more forces to help training tasks. NATO considers the training of the Afghan army and police as a crucial element before the eventual withdrawal of troops. The US and NATO have deployed 150,000 troops to Afghanistan to combat a violent insurgency which begun just after the 2001 fall of the Taliban regime.
Pakistan has seen a sharp spike in US drone strikes in its rugged northwestern tribal region in recent days, amid a surge in suicide attacks and bombings across the country.
The Pakistani Taliban said Tuesday they would continue to target Pakistani security forces with suicide attacks in revenge for the US drone strikes.
"We are targeting Pakistani security forces because the government has allowed America to launch drone attacks on us," Tehreek-e-Taliban Pakistan (TTP) spokesman Azam Tariq told AFP by telephone.
The latest drone attack hit Newey Adda village in the Datta Khel area near Miranshah, the main town in North Waziristan tribal district, they said.
"A US drone fired two missiles. The target was a house used by militants as a compound. Six militants were killed," a senior security official in Peshawar told AFP, on condition of anonymity.
Another intelligence official in Miranshah confirmed the attack and the death toll, while a third intelligence official said there were two "guests" among the dead -- a term used for foreign militants.
The area is a renowned hub for Taliban militants and Al-Qaeda-linked rebels.
Residents said six bodies had been dug from the rubble. Some injured people were taken to an unknown location for medical treatment.
Intelligence officials said there were two Arab fighters among the dead in the latest attack, while they were seeking more information about nationalities of the other militants killed.
Last week, a total of 24 militants were killed in four US drone strikes in 24 hours in the same tribal district.
Meanwhile, in two separate incidents Sunday, a man blew himself up in a botched suicide bombing in Pakistani-administered Kashmir, an official said, while police defused a timed device hidden in a shop in the region's main town.
The bomber's explosives went off as he was heading in a car to a target in Rawalakot district, 120 kilometres (74 miles) south of regional capital Muzaffarabad in the disputed Himalayan region on the border with India.
"The bomber was trying to hit some sensitive installations but the explosive went off before time, when he was on his way to hit his target," Chaudhry Raqeeb, the top administrative official in Rawalakot, told AFP.
He said the bomber was identified as a local resident.
Police on Sunday defused a timed explosive device hidden in a pressure cooker in a shop after being tipped off by a local security guard in a congested market in Muzaffarabad.
No one has immediately claimed responsibility for the failed attacks.
Attacks blamed mostly on the Taliban have killed more than 3,700 people across Pakistan since July 2007, and have been concentrated in the northwest and major cities rather than the northern mountains and eastern border with India.
US forces have been waging a drone war against Taliban and Al-Qaeda-linked commanders in the northwestern tribal belt, where militants have carved out havens in mountains outside direct government control.
Officials in Washington say the drone strikes are a vital tool needed to protect foreign troops in Afghanistan and have killed a number of high-value targets including Pakistani Taliban chief Baitullah Mehsud.
The US military does not as a rule confirm drone attacks, but its armed forces and the Central Intelligence Agency operating in Afghanistan are the only forces that deploy pilotless drones in the region.
Over 1,070 people have been killed in more than 125 drone strikes in Pakistan since August 2008, including a number of senior militants. However, the attacks fuel anti-American sentiment in the conservative Muslim country.
Al-Qaeda announced in June that its number three leader and Osama bin Laden's one-time treasurer Mustafa Abu al-Yazid had been killed in what security officials said appeared to be a drone strike in North Waziristan.
Under US pressure to crack down on Islamist havens along the Afghan border, Pakistan has in the past year significantly increased operations against militants in the area.