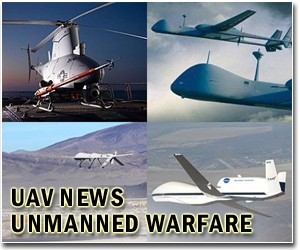 US weighed shooting down runaway robotic helicopter: admiral
Washington (AFP) Sept 9, 2010 - US commanders considered shooting down an unmanned navy helicopter that flew out of control towards the US capital last month before communications were restored, a top US officer said Thursday. Admiral Sandy Winnefeld, who oversees the country's air defenses, said the August 2 incident presented senior officers with an unprecedented dilemma, as a robotic Firescout helicopter strayed off course after losing ground communications. "We were watching this very closely," said Winnefeld, head of US Northern Command and NORAD, the joint US-Canadian air defense command. "It's headed right for the heart of the national capital region," he told defense reporters. "Do you let it run out of gas and hopefully crash in a farmer's field or do you actually take action to shoot it down?" "You certainly don't want to shoot it down over a populated area if you can avoid it."

The North American Aerospace Defense Command was on the verge of scrambling F-16 fighter jets to intercept the helicopter when operators regained control of the chopper after 20 minutes. The MQ-8B Fire Scout had taken off from Webster Field at the Patuxent River testing ground in Maryland and broached Washington's restricted air space, but the US Navy said the helicopter never got closer than 40 miles (64 kilometers) from the capital. The admiral said the military was "not close" to shooting down the helicopter but commanders had reviewed possible options. "So we were going through all that decision calculus and then fortunately got the word that they'd gotten control of it," he said. The episode came as the military presses civilian officials at the Federal Aviation Administration (FAA) to ease restrictions on the use of unmanned aircraft over the United States.

Winnefeld acknowledged that last month's incident with the runaway Firescout would only reinforce worries about introducing more unmanned aircraft in US airspace. "It certainly doesn't help our case anytime there's a UAV (unmanned aerial vehicle) that wanders around a little bit outside of what's controlled air space," he said. FAA officials have pushed for assurances that sensor systems aboard drones are sufficiently reliable to detect and avoid other planes. The admiral said at the moment he has no unmanned aircraft at his disposal due to the FAA restrictions and that robotic drones will be increasingly in demand to help respond to natural disasters and other needs. "I share the FAA's goal that air space operations in the United States be conducted safely," he said, but added that it was important to move quickly to resolve the safety concerns.

Miranshah, Pakistan (AFP) - A US drone attack Thursday killed six militants in Pakistan -- the fourth strike in 24 hours -- officials said, amid an upsurge in violence across the country.
The latest strike hit North Waziristan, the same district targeted in three other drone attacks since Wednesday and a renowned hub for Taliban militants who have vowed to attack security forces in retaliation.
Hours later in the southwestern city of Quetta, a bomb near the house of the provincial finance minister killed five people, a senior police official told AFP. Nobody immediately claimed responsibility for the attack.
The target of the drone attack was a compound in the outskirts of Miranshah, the main town in North Waziristan. A total of 24 militants were killed in the four strikes.
"Two US drones fired three missiles. We have reports that six militants were killed," a security official based in Peshawar told AFP.
Residents in Miranshah said they heard three huge explosions and later the villagers made announcements from local mosques asking for help.
"Militants have dug out six dead bodies. Five people were critically wounded," a local resident told AFP, requesting anonymity.
Intelligence officials said they were trying to find out the nationalities of the militants killed, but they had no reports about the presence of any high-value target.
"An informer told us there were some Afghan Taliban among the dead but we are investigating," an intelligence official in Miranshah told AFP.
Two other intelligence officials in Miranshah also confirmed the attack and the death toll.
Pakistan's northwest is also a hotbed of sectarian violence, and in Kurram tribal district, bordering North Waziristan to the north, nine people were killed and seven wounded Thursday in a landmine blast believed to target Sunni Muslims.
The nine died after their vehicle struck the landmine in remote Dol Ragha village, close to the Afghan border, which has been a flashpoint for sectarian violence between Sunni and Shiite Muslims.
Sectarian violence between the minority Shiite and majority Sunni communities has claimed more than 4,000 lives in Pakistan since the late 1980s.
Religious violence has sharply increased in Pakistan over the past week as Muslims marked the last few days of the holy fasting month of Ramadan.
A suicide bomber killed 59 people at a Shiite rally in Quetta on Friday, three days after suicide bombers killed 31 people and wounded hundreds during a Shiite mourning procession in Lahore. The Lahore attack was subsequently claimed by the Taliban.
In other violence, at least 20 people were killed and more than 50 wounded Tuesday in a car bomb attack targeting a police headquarters in the northwestern city of Kohat.
Washington has branded the rugged area on the Afghan border -- part of which has been hit by Pakistan's catastrophic flooding -- a global headquarters of Al-Qaeda and the most dangerous place on Earth.
US forces have been waging a drone war against Taliban and Al-Qaeda-linked commanders in the northwestern tribal belt, where militants have carved out havens in mountains outside direct government control.
Officials in Washington say the drone strikes are a vital tool needed to protect foreign troops in Afghanistan and have killed a number of high-value targets including Pakistani Taliban chief Baitullah Mehsud.
The US military does not as a rule confirm drone attacks, but its armed forces and the Central Intelligence Agency operating in Afghanistan are the only forces that deploy pilotless drones in the region.
More than 1,040 people have been killed in over 100 drone strikes in Pakistan since August 2008, including a number of senior militants. However, the attacks fuel anti-American sentiment in the conservative Muslim country.